Finally managed to upload a video to YouTube showing just how easy it is to elope with one of our elopement packages.
Enjoy and please give it a thumbs up

Lisa
We are often asked "How to elope in Australia"?
And the other main question is " What if we live in a different State to New South Wales, Can we still get legally married in NSW"?
Here is a brief answer to both questions above and I'll start by answering the second question first.
The Marriage Act in Australia is based on the Federal Law and it applies to all States within Australia. This means that Yes, if you are living in Australia you can be married in any State you choose.
Eloping is a decision that needs to be made on the basis of what you as a couple want and it really is very easy to do. Sometimes it can become complicated when family are made known of your decision and wish to persuade you in a different direction.
Most of the time though, close family will be happy for you and you may wish for them to be included in your Elopement Ceremony.
You can of course choose to be married at the local Court House or choose a Destination for your Wedding. Having been involved with a Court House ceremony we strongly suggest you look at the alternative. Its much more romantic and provides a beautiful environment for you to say "I Do to" each other

It really is very simple to elope and with our elopement packages we make it as easy as possible for you and help you every step of the way.
The first step of course is to set a date for your ceremony and decide on what package you would like along with any optional extras that we have on offer. By law you must allow a minimum of 1 month and 1 day from the time your celebrant lodges your Notice Of Intent to Marry forms for you. So you need to keep this in mind when setting a date. The quickest we have been able to assist couple for a quick elopement is within a 5 week period.
Once you have set your date and let us know, we then check our availability and confirm this with you. A deposit is then required to secure your wedding date and package. We book all your service providers for you and co-ordinate everything within your Elopement Package.
We would forward your details to your celebrant who would then contact you and start your legal proceedings. Your celebrant will send you all required forms and give you all the guidance you require. They will then lodge your "Notice of Intention to Marry" forms for you and according to your directions and input, create a lovely ceremony for your wedding day.
Most couples are happy to communicate via email and any questions or assistance leading up to their wedding is given via this medium, and of course we are just a telephone call away.
Closer to your wedding day we would be in touch with you, and a full itinerary (if you have booked the Deluxe Package) will be sent to you with all the arrangements that we have organised for you all listed.
You will of course need to organise your dress and rings and arrive in Coffs Harbour the day prior to your ceremony. At this time you would meet with your celebrant and go over last minute details. You will also be given suggestions on the best location for your ceremony to be held. You can then take a look at these locations and confirm with us what you have decided on.
We will then be all set up for you with a signing table, chairs and music player prior to your ceremony time so that all you have to do is arrive on time with your love and wedding rings

We hope this has helped you if you are looking to elope and we look forward to hearing from you and having the opportunity to help make it all happen  for you both

If you have any other question please view our Eloping Packages site www.lovingimages.com.au/eloping.html
or email me lisa@lovingimages.com.au
or telephone on 02 6658 0825
Warmest Regards
Lisa Brehaut
WOW,
I can't believe that its almost 12 months to the day that a post was last made.
Well what can I say, time flies when your having fun

Here is a picture of a recent elopement.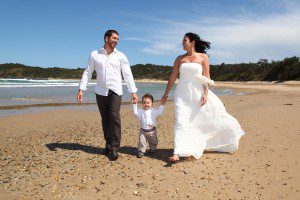 Lisa & Michael with their son Jack walking on Diggers Beach, Coffs Harbour after they had Eloped
Eloping packages can be found at http://www.lovingimages.com.au/eloping.html
For months I was getting so stressed trying to find 'the right' wedding reception venue, the best looking church, who to have/not to have in the bridal party, who, what, when, where and how etc. On a whim I googled 'elopements NSW'. I wasn't seriously thinking about eloping just curious. I found your website and well, the rest is history!
After making the initial deposit I must admit we were still a little apprehensive. For a start we had not been to Coffs Harbour before, there would be no 'trial hair or make-up',  we had no idea what the accommodation would be like and had not been to a wedding ceremony that wasn't done in a church before. The one thing we were sure of was no doubt the photo's would look great!
Well we should never have worried. Everything ran so smoothly. Aanuka Beach Resort was just amazing, no need to go anywhere, the beach at our doorstep, privacy, great restaurants. We have decided we would like to go back to Aanuka once a year around our wedding anniversary, that's how much we loved it. Great for couple and for families.
Our celebrant Lionel was so lovely. He is such a warm and friendly person, he made us feel at ease within a minute of meeting him. He is extremely professional and lodged all our paperwork for us and really went out of his way to make our ceremony special. He even made last minute changes to our ceremony and remembered our guests names. I would recommend him to anyone wanting to get married in the Coffs Harbour Area.
My bouquet was beautiful. Fresh, elegant and timeless. It arrived on schedule and about an hour before the ceremony so there was no worry about it wilting.
Nyree was my hair and make-up artist. From the moment she arrived at our room I knew she was a professional. She had 2 huge beauty case trolleys and she was just beautiful inside and out. We shared many laughs while she was working on me, it felt like we were old friends. She even fixed up my dodgy spray tan for which I will be forever grateful. I loved my hair and make-up and I have had many people comment on how beautiful I look in the photo's. I felt like a princess, I'm not sure if my hair or make-up will ever look that good again.
Finally a big thank you to you, Lisa and Stephen our photographers for making it all happen. Lisa you were always prompt at replying to my emails and nothing was ever a problem. You have an aptitude for ensuring that everything runs smoothly. Stephen you have a gift in capturing all of the right moments and creating memories that will last more than a lifetime. Our photo's are beautiful. You were both wonderful on the day, making us laugh and you are both genuinely nice people. We wish you both all the success in the world as no doubt you both deserve it. You really have a strong network of people working for you, and we have absolutely no hesitation in recommending Loving Images to anyone looking to get married or in particular 'elope' in Coffs Harbour.
Many thanks
Rachael & Jason Taranto
In the last couple of days we have just organised a complete elopement package for a couple living in England. They have chosen to elope in Australia when they visit in December.
I already feel that I know Kate quite well as there's been a lot of emails back and forth

They are going to love what we have arranged for them and it will be the perfect setting for them to finaly say I do to each other.
Its great to be a part of there special day and to have organised everything for them. The celebrant, wedding photography (us), Hair and make-up artist, Bridal bouquet and of course the Bridal suite. All they have to do is turn up on the day dressed in fashion and have the experience of their life.
They will certainly have great memories to take back to the UK. I say three cheers to Kate and Alan, here's to your elopement.
Also hot off the press is this testimonial from a lovely couple who just eloped.
Hi Lisa & Stephen,
Just wanted to let you that you made our wedding day so special. Everything you organised from the Celebrant to the photo's etc where amazing. Im very much a control freak so to let you organise our wedding was a huge deal for me, but thanks to you we had the most amazing day and those memories we will hold very forever. The effort you both went to for the photos was great, you made us feel so comfortable, also the DVD that you did for us made my husband shed at tear when he watched it. You both are lovely people, thank you again for making our day a magical one. 
Dannii & Renos
Let us help you with your special day and elope with one of our elopement packages at Loving Images, Coffs Harbour, Australia.
 Cheers
Lisa Brehaut
Wow it certainly has been a busy time for us with lots of lovely couples choosing to elope.  I think when you look at the prices for a wedding, including all the reception costs, wedding photographer, videographer, wedding planner and all the other add ons, a lot of couples end up in debt for years on end to pay for their lavish wedding.
With our elopement packages being so affordable and an easy alternative to the traditional and expensive wedding its no wonder couples are making the elopement choice.
Just In 

This email just popped into our inbox today from a lovely couple who experienced our deluxe elopement package and I thought that I would share it with you as our blog has ended up being a great place to post lots of our testimonials.

 

Joanne and I would like to thank Lisa and Stephen of Loving Images

for not just the amazing photographs they captured, but the magical

day they created that will remain in our memories as the perfect day,

for the rest of our lives. I would recommend loving images whole h

eartedly to anybody that is looking for a quality photographer for their

special day or to any couple that is looking to elope.

Lisa and Stephen, thank you once again the whole package was amazing.
Kind regardsJoanne and Adam Casey (posted with permission)
If you would like to know how you can have an affordable wedding alternative then please check out our elopement packages.
Warm Regards
Lisa
Hi Lisa & Stephen,
Just want to thank you for the wonderful photo's and for the wonderful elopment package you provided us with.
Sorry we didn't get more of a chance to chat about the photo's and sorry it has taken so long to get in touch .
 We loved all the photo's, you did a wonderful job and the whole experience was better then we could have hope for.  
Ken Palmer was a very lovely man, thank you for arranging him to do our ceremony.
Thank you for trusting us when we said it wouldn't rain and for getting up at sunrise but most of all thank you for helping make our day so wonderful.
Kind Regards
Leigh & Tracey
We have been so busy with elopements that it has been a while in making a post. In the interest of keeping the site active we will most likely post Testimonials from time to time.
********************
Hi Lisa and Stephen,
Thanks for everything that you have done for us. You made our wedding simple yet intimate and easy to organise, a real pleasure. Thank you for all your work it is greatly appreciated. We had a great day and everything went toplan thanks to you guys.
Your service is very user friendly, professional and affordable. We received our photos, negatives and cd today from the courier. They are wonderful, we both don't really like photos as you know but you made us look pretty good.
Thank you to Stephen for putting up with us during the photo taking and for producing such wonderful images of us together, alone and with our family on our special day.
Amber and James
Its nice to tell a complete story of an eloping couple and to do this we wanted to share an email sent to us form a couple that experienced our deluxe elopement package. After they arrived back home from eloping they sent the following.
****************
Hello…I am sorry I didn't get to email earlier, life has been one big mad house, especially at work. 
Have been meaning to say thank you for all your help and support, and for the lovely time Matthew and I had at Coffs Harbour.  
Lionel – Thank you so much for your help and support, we couldn't have asked for anything/anyone better, we were completely satisfied with you. I am sorry I didn't say goodbye to you on the day, I thought you may have been there when we got back from the photos. Everything came through just fine, the certificate etc and I am officially Mrs Russell now.
Loving Images – As I have said before, your service and idea behind the package is excellent, and I am so glad I found you. We loved Aanuka and the family love the photos. Everything is going well and the family are all supportive and over the whole thing, so we are throwing a party in a couple of months. We will be heading up to Coffs for a holiday later in the year. Maybe when we have a baby we can come back and get some family photos. 
Hope your all well and its not getting to cold for you.
Speak soon
Kirsty and Matthew   
**********************************
Kirsty & Russell, thank you for your email and we wish you both the very best in life together. We know how much you had to go throught in order to get married and are extremly glad that our elopement package provided you with a solution and a happy ending.
Warmest Regards
Lisa Brehaut
Loving Images